November 15, 2017
Flags, pins, certificates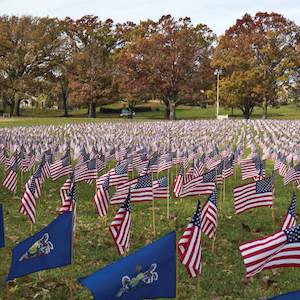 Flags, pins, certificates
Senior living communities across the country observed Veterans Day this past week.
The Residents Military Events Committee at Masonic Village at Elizabethtown in Elizabethtown, PA, hosted a Veterans Day service.
Every November, the continuing care retirement community committee along with the Harrisburg Chapter No. 76 of the National Sojourners coordinate a "massing of the colors," a memorial to each member of the U.S. military who has died in combat since 9/11. The approximately 7,000 U.S. flags and 300 Pennsylvania flags are displayed in the community's Veterans Grove.
"It's important for us to remember those who fought and died for the freedoms that we enjoy today," said resident and U.S. Navy veteran Russell Baker. "All of our hopes are that the number of flags in the memorial don't increase, that we don't have any more conflicts where we lose young men and women."
The committee also hosts a veterans social for veterans from all areas of the campus.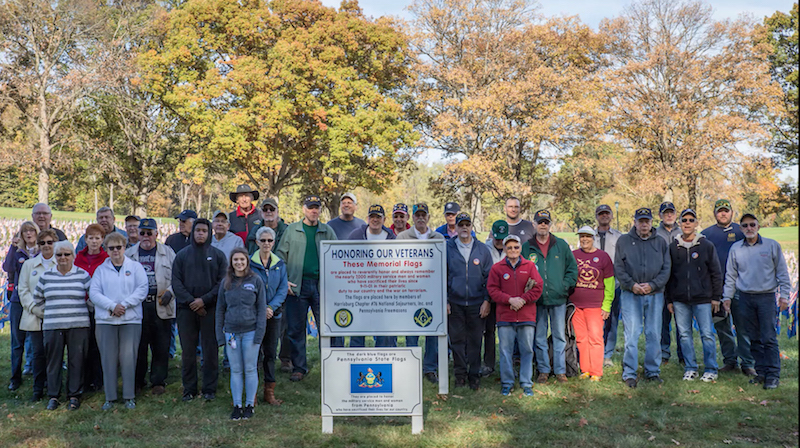 Above: The volunteers who participated in the "massing of the colors."
The memory care community Poet's Walk Round Rock in Round Rock, TX, honored World War II and Korean War Veterans on Veterans Day morning. Uniformed members of the Veteran's Society of Pflugerville presented each of the eight veterans with a certificate and a pin. After the ceremony, a Veteran's Day concert treated guests to military and patriotic music. Some of those celebrated are pictured in the accompanying photo.
Click here to see the In Focus archive and read how to submit your photos for consideration.