January 24, 2018
Florida fete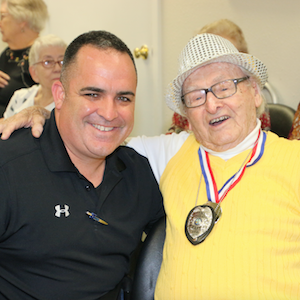 Pictured: Isaac "Ike" Newcomer, right, enjoys his birthday party with Officer Alex Gomez from the Lakeland Police Department.
Dozens of fellow residents at Meridian Senior Living's Lake Morton Plaza in Lakeland, FL, along with officers from the Lakeland Police Department, celebrated Isaac "Ike" Newcomer's 107th birthday Jan. 2.
Ike received happy wishes in a letter from the mayor, commemorative coins from the police and a 30-foot birthday card with more than 600 greetings extracted from Facebook comments from all over the world.
Originally from Pennsylvania, Ike and his wife, Helen, moved to Lakeland, FL, in 1982 to be closer to family. He has been a resident of the Lake Morton Plaza independent and assisted living community since 2008.
Click here to see the In Focus archive and read how to submit your photos for consideration.