October 19, 2016
Getting out the vote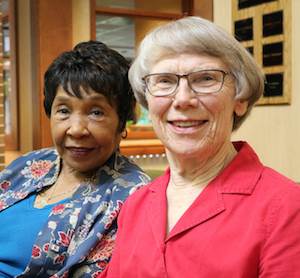 Barbara Carlisle, left, and Phyllis Lansing are among the dozens of volunteers who help ensure that election day goes smoothly at the Charlestown retirement community.
For residents of Charlestown retirement community, an Erickson Living community in Catonsville, MD, exercising the right to vote is especially convenient because their polling precinct is located on the campus.
It has served more than 2,000 Charlestown residents as well as registered voters who live outside the community for more than 25 years.
Resident Charles Tucker is a chief judge, responsible for providing instructions to voters, answering questions and monitoring the activities in the polling place. He has spent the past seven months planning every last detail of Election Day.
"I develop a floor plan for our conference center of how everything will be set up," he said. "This year will be different from 2012 because we switched from electronic voting back to paper ballots, so there is a little more involved."
Tucker organizes about 40 volunteers who work two hour shifts, greeting voters, manning the information table and guiding people where to go next.
He also is a member of the Legislative Political Committee, a group that keeps Charlestown residents informed of political matters. The committee is also responsible for inviting candidates running for local office to speak at the community. Gov. Martin O'Malley, Rep. Dutch Ruppersberger and even President Bill Clinton are among the politicians who have made an appearance at Charlestown over the years.
Resident Phyllis Lansing leads the community's chapter of the League of Women Voters. In preparation for the November election, she and the Charlestown group have helped host registration drives, allowing people to register to vote, update their registration information and helping people complete absentee ballots.
"The league also puts out an information guide called Vote 411, which provides information about the candidates who are running for office and where they stand on the issues so that people can make an informed choice," Lansing said.
Charlestown Community Resources Manager Mary Evans and her staff provide logistical support to Charlestown resident-run groups such as the election volunteers.
"There is a very grassroots effort to accommodate everyone who wants to vote. Everything is covered," she said. "This is a very active community, and we expect it will be hopping around here on Election Day. I have a feeling we will see strong numbers of voters coming out, because people are so passionate."
Click here to see the In Focus archive and read how to submit your photos for consideration.