August 09, 2017
Grande dame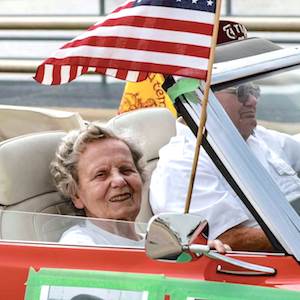 Dorothy Nimmer enjoys her time as grand marshal of the Winneconne Sovereign State Days parade. (Photo by Doug Sasse courtesy of Gabriel's Landing / Miravida Living)
Resident Dorothy Nimmer from Gabriel's Villa, the assisted living residence on the Miravida Living retirement community campus in Oshkosh, WI, was all smiles July 22 during the Winneconne Sovereign State Days parade. She was grand marshal of the 50th anniversary event.
Winneconne, a village near Oshkosh, accidentally was excluded from the 1967 Wisconsin map, prompting its residents to jokingly secede from the union, according to Miravida. Nimmer was one of the co-conspirators in the secession and was named secretary and treasurer for the new sovereign state.
After an urgent message from Wisconsin's governor, Winneconne's residents decided to rejoin the state just 12 hours later. Sovereign State Days celebrates the short but memorable time the village was independent.
Nimmer, her fellow co-conspirators and Winneconne residents love celebrating this memorable period in their village's history, according to Miravida. Nimmer even compiled two large scrapbooks with boxes of letters, news clippings and photographs from the historic events of 1967.
Miravida formerly was known as Lutheran Homes of Oshkosh.
Click here to see the In Focus archive and read how to submit your photos for consideration.