May 02, 2018
Guess who visited?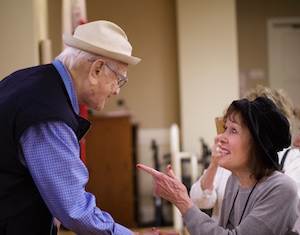 University Village resident Sondra Krakower, right, enjoys a little one-on-one time with Norman Lear. (Photo: Michael Adams)
Long-time television writer and producer Norman Lear shared a behind-the-scenes look at his career April 25 with residents of the Thousand Oaks, CA, continuing care retirement community University Village Thousand Oaks, where in late February and early March he filmed the pilot for his new TV program, "Guess Who Died?"
More than 80 University Village residents served as "extras" in the pilot.
According to Deadline, the show stars Christopher Lloyd, Hector Elizondo, Holland Taylor and Beth Lacke and is based on is based on Lear's personal experiences of the "shared joys and challenges we all experience at any stage of life."
During Lear's visit, residents were treated to a viewing of his new documentary, "Norman Lear: Just Another Version of You." The film combines stories from his childhood and early career with those of his later success in television, when he produced shows such as "All in the Family," "One Day at a Time," "The Jeffersons," "Sanford and Son," "Good Times" and "Maude."
After the documentary, Lear answered questions about his career and his political views. He founded the advocacy organization People for the American Way and has supported First Amendment rights and causes for decades.
Click here to see the In Focus archive and read how to submit your photos for consideration.