March 21, 2018
Hello, cello!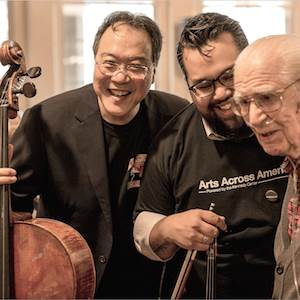 Yo-Yo Ma, left, enjoys his time at Valencia Terrace in Corona, CA.
Staff at Valencia Terrace, a Kisco Senior Living community in Corona, CA, surprised approximately 100 residents with a visit from Grammy Award-winning cellist Yo-Yo Ma on March 2.
Ma's private performance, which was through the Kennedy Center's "Arts Across America" program, was coordinated between the Corona City Chamber of Commerce and Valencia Terrace employees.
During his visit, Ma unexpectedly performed with the resident choir and also performed an impromptu duet with resident Marjorie Keith at the piano.
"Having the opportunity to perform with Yo-Yo Ma was absolutely incredible," Keith said. "It was an honor to have someone as esteemed as Ma in our community and have the chance to share in his gift of music in such a special setting. I was brought to tears during his performance and was simply awed by how humbly he presented himself to us. No one will forget the performance any time soon nor the kindness extended by Ma."
Ma paid tribute to the veterans in the room, singling them out for their service and applauding them.
"It was an honor to welcome Yo-Yo Ma into our community and to be a part of an initiative such as Arts Across America," said Dyan Summerell, executive director of Valencia Terrace. "We take great pride in providing our residents with experiences that strengthen the mind, body and spirit through unique opportunities. Being chosen as a location for one of Yo-Yo Ma's performances was truly humbling, and we know that it is a moment that will be treasured by all in attendance for a while to come."
Click here to see the In Focus archive and read how to submit your photos for consideration.