May 04, 2016
Honoring mothers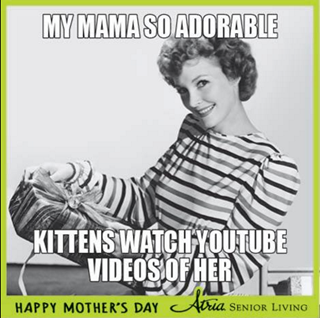 Honoring mothers
Timed to coincide with Mother's Day, Atria Senior Living has launched a charitable campaign on Facebook to benefit Every Mother Counts, a nonprofit organization dedicated to making pregnancy and childbirth safe for mothers.
The "Compliments to Yo Mama" campaign is designed to honor attributes such as wisdom in a playful way.
"Atria is home to over 15,000 women, most of whom are moms," said Anne Pinter, the company's executive vice president, explaining the thinking behind the campaign.
Atria will donate $5 to Every Mother Counts, up to $10,000, for every share of its Mother's Day video on Facebook. "These dollars are going to transportation, educational programs and purchase of supplies and equipment needed to serve women around the world," Pinter said.
Based in Louisville, KY, Atria operates independent living, supportive living, assisted living and memory care communities in 179 locations in 28 states and seven Canadian provinces. The communities are home to more than 21,000 older adults and the workplace of more than 12,500 employees.
Click here to see the In Focus archive and read how to submit your photos for consideration.