November 16, 2016
Honoring veterans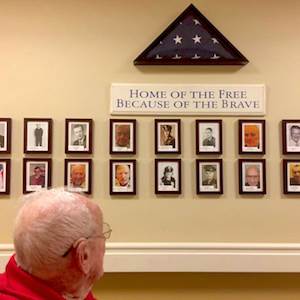 Blue Sage Pointe's new Wall of Valor honors residents who have served in the U.S. Armed Forces.
Blue Sage Pointe, a continuing care neighborhood at Tallgrass Creek, an Erickson Living community in Overland Park, KS, on Veterans Day dedicated a permanent Wall of Valor to honor its residents who have served in the U.S. Armed Forces.
Twenty-two residents were honored this year, and their photos, many of which depict them in the residents in their military uniforms, were displayed on the wall. The veterans shared stories of their military service with staff. One of the residents served as an elite Marine paratrooper in World War II. There were only 3,400 such paratroopers during the war, of which 400 are still living.
Some other senior living community observances of Veterans Day:
• Vi at Bentley Village in Naples, FL, hosted U.S. Rep.-elect Francis Rooney and State Sen.-elect Kathleen Passidomo at a Nov. 11 ceremony. They assisted with the reading of veteran biographies and offered remarks.
• Presbyterian Village North in Dallas held a Veterans Day celebration in its auditorium for more than 250 residents, family members and guests. The community also expects to break ground soon on a monument to veterans that will feature a seven-foot bronze eagle and will be located at a prominent spot at the entrance of the senior living community. It will feature the names and military branches of existing residents who are veterans, as well as veterans who lived in the community over the past 36 years.
• As in years past, Belmont Village recognized the hundreds of veterans who live in its communities through its American Heroes: Portraits of Service galleries. The exhibit at each Belmont Village is unique, made up of the images and personal stories of the residents who live there. The portraits are by professional photographer Thomas Sanders and blend history and art to create a lasting tribute to our veterans and all who have served.
• A group of eight veteran seniors from Spring Hills Hunter's Creek Assisted Living Community in Orlando took part in a Nov. 11 Dream Flight at the Kissimmee Gateway Airport. The Ageless Aviation Dreams Foundation gave rides in one of three completely restored 1940s Boeing Stearman open-cockpit biplanes from World War II. The local Veterans of Foreign Wars post performed a 21-gun salute and conducted a pinning ceremony for the veterans. In addition, the Museum of History brought World War II artifacts.
• Six veterans from Spring Hills Cherry Hill Assisted Living, Cherry Hill, N.J., and more from the South Jersey community received a Veteran's Medal from Cherry Hill Mayor Chuck Cahn and Lt. Col. Al Bancroft in a Nov. 7 ceremony. Veterans or their surviving spouses were presented with The Camden County Military Service Medal or the Korean War Service Medal. Among Spring Hills Cherry Hill residents being honored are Ernest Franciotti, who was a sergeant in the Army during World War II, and Maurice Karen, a veteran of the Korean War who worked to have the Philadelphia Korean War Memorial at Penn's Landing created.
• Harrogate, a retirement community in Ocean County, N.J., honored several veterans who are residents, among them Herb Webber, who received the Bronze Star and a Purple Heart for his service with the 45th Division of the U.S. Army in France and Germany during World War II.
• Watermark Retirement Communities honored those who served by holding flag ceremonies, inviting active service members to speak and arranging poppy-making classes. More than 200 residents at organization's 37 communities are veterans, and Watermark communities hold activities year-round. Some, for instance, have weekly or monthly veterans group meetings, and others have commissioned Veterans' Walls and have hired professional photographers to take portraits of veterans in uniform. Multiple communities are planning honor flights for their veteran residents to travel to Washington, D.C., and visit the monuments of the wars they served in.
• Sylvia Moore, a fitness specialist at Charlestown retirement community, an Erickson Living community in Catonsville, MD, attended a Veterans Day ceremony at nearby Our Lady of the Angels Chapel with her fellow VFW Post 219 members. Moore served as a U.S. Army generator mechanic and guard in Somalia and Haiti.
• Five Star Senior Living created videos in honor of some of its residents who are veterans. The one shared here features 91-year-old Will Abbey, a resident of Morningside of Charlottesville in Virginia. The U.S. Navy veteran of World War II was interviewed by music producer and YouTube personality Mike Tompkins. We won't spoil it for you — just watch!
Click here to see the In Focus archive and read how to submit your photos for consideration.