November 30, 2016
Horsing around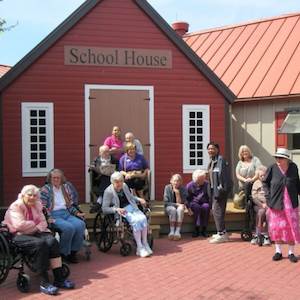 Rockland Place residents and staff visit the New Castle County Carousel Park & Equestrian Center.
Residents from Rockland Place, a Watermark senior living community in Wilmington, DE, recently visited the New Castle County Carousel Park & Equestrian Center.
The 217-acre site features meadows, ponds, a lake, walking trails and a bird park. Upon arrival, the group toured the grounds, stables and arenas, meeting animals along the way, including llamas, goats, peacocks, rabbits and more.
During their visit, residents saw members of the New Castle County Mounted Patrol participate in a training and conditioning session with Clydesdale horses. Before heading back to the community, the group enjoyed a picnic lunch.
"The outing brought back several memories for some of our residents who are horse lovers and created new memories for everyone who attended," said Jen Quinones, executive director of Rockland Place.
Those in attendance were part of Pathways, a traditional memory care neighborhood, as well as Our Place, a neighborhood offering services for those just beginning to experience memory loss.
"Growing and sustaining interpersonal relationships and allowing residents and associates to experience journeys like this together is vital," Quinones said.
Click here to see the In Focus archive and read how to submit your photos for consideration.