September 28, 2016
Investing in the future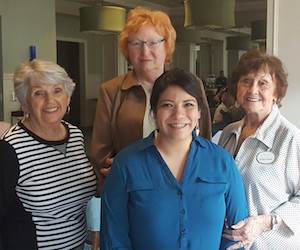 Scholarship recipient Astrid Barrios stands in front of (from left) scholarship committee members Pat Shotland, Sally Rausch (chairwoman) and Dotty Houge.
The residents of Mirador, a Senior Quality Lifestyles Corp. and Masterpiece Living retirement community in Corpus Christi, TX, recently awarded Mirador Employee Scholarships to five staff members who work at the community. Most of those awarded scholarships work in healthcare services as team members at The Plaza at Mirador.
"It truly has been an honor and a blessing working here at Mirador for the last five years," said Astrid Barrios, one of the recipients. "This scholarship will help me accomplish my future goals and complete my education." Her remarks also reflect the sentiments of other recipients: Vanessa Acevedo, Gregory Hobbs, Marissa Miller and Vasti Zapata.
The idea to create a scholarship began a year ago after some residents were made aware of a specific amount of funds put aside by the SQLC Charitable Foundation — part of Mirador's parent company — for residents at the community to use philanthropically. Residents soon established a committee and begin collecting additional contributions from other residents to create the scholarship. The committee partners with the Coastal Bend Community Foundation to make sure everything runs smoothly and that award amounts are distributed appropriately to the scholarship recipients.
Residents contribute for various reasons, according to Sally Rausch, chairwoman of the scholarship committee. Some give monthly, and others donate on special occasions or in memorial of a loved one.
"It's our privilege to give back to the employees who help us live the lifestyle we choose here at Mirador," Rausch said. "It is because of their willingness to help us follow our passions that we are proud to encourage them to pursue their own."
All employees currently enrolled in higher education classes are encouraged to apply, and awards are bestowed each semester based on the amount of available funds during the application period. The criteria for the award are particularly strenuous, according to Mirador, to ensure that applicants are committed to their studies and employment at the community.
"It's a testament to our dedicated staff and all of their hard work that our residents would feel so strongly to help make their education possible," said Aaron DeNovellis, executive director of Mirador.
Click here to see the In Focus archive and read how to submit your photos for consideration.