March 09, 2017
'Knit Wits'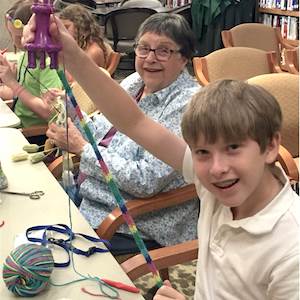 Residents of Presbyterian Village North recently taught some area children how to knit.
Presbyterian Village North's "Camp PVN" offered a chance for residents to impart their knowledge of hobbies and interests to Dallas-area children. A group of residents who dub themselves the "Knit Wits" spent time teaching the children how to do French knitting with handheld spools. Many of the residents had learned knitting at the children's age.
"Though today's parents do not pass down this talent to their children the way they used to, I feel it is making a comeback with young adults who are eager to experience something new," said Judy Morris, a resident of PVN and member of the Knit Wits group. "It is extremely therapeutic and can be both stress relieving and create social opportunities. We were excited to see the joy that radiated from the children's faces as they created something unique."
The Knits Wits spent four days working with the children, helping them to make flowers, headbands and other items. They plan to host other tutorials during school breaks and on weekends.
Regardless, the group meets weekly in the community's "fun and games" room to work on their own knitting and crochet projects, making a variety of items such as pot holders, dish cloths, baby hats, blankets and scarves and more while socializing.
Click here to see the In Focus archive and read how to submit your photos for consideration.