September 06, 2017
Making a connection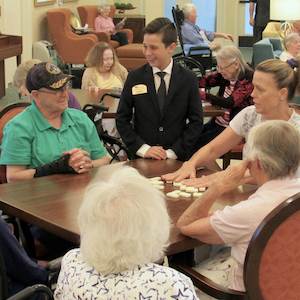 Poet's Walk Henderson volunteer Evan Stark, standing, talks with a group of residents including Joseph Salvucci (in hat) and Kim Grad (to Evan's left), the daughter of one of Poet's Walk's residents.
Residents of Poet's Walk, a Spring Hills memory care community in Henderson, NV, have smiles on their faces thanks to an 11-year-old boy who missed his late grandmother and was searching for a way to connect with other older adults.
Evan Stark began volunteering at the community this summer. Evan's family is friends with the community's executive director, Mark Shaffer, and the boy asked whether he could volunteer there.
Over the summer, twice a week, Evan would dress up in a suit, put on a specially made name tag and visit Poet's Walk for eight hours a day. He would play board games, sing with the residents, serve them lunch and walk the community dog according to Poet's Walk.
Now that the school year has begun, Evan plans to visit on weekends and possibly after school when his parents can drive him.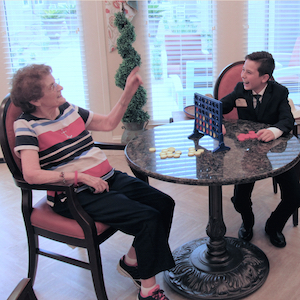 Evan's maternal grandmother passed away two years ago, having lived with the Stark family for the first six years of his life until she needed assisted living. He had a special bond with her, according to Poet's Walk, preferring to spend time with her rather than his school friends, so he enjoys his time at the community.
And community residents enjoy their time with him. Evan has received a certificate of appreciation for his efforts.
In the accompanying photo, Poet's Walk Henderson resident Nancy Amabile, left, laughs with Evan Stark.
Click here to see the In Focus archive and read how to submit your photos for consideration.