January 18, 2017
Mammal meeting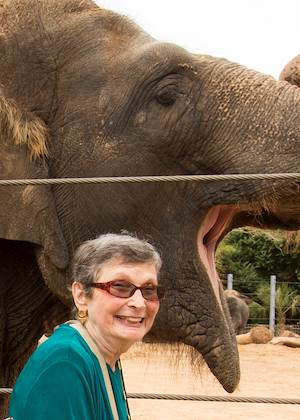 Brookdale Meridian Temple resident Jenny Bond makes friends with an elephant at the Houston Zoo.
Jenny Bond, a 78-year-old resident of Brookdale Meridian Temple in Temple, TX, recently met an elephant at the Houston Zoo, where she helped zookeepers with their daily feeding and care responsibilities.
The trip was made possible by a partnership between Brookdale Senior Living, the nonprofit organization Wish of a Lifetime, and global hygiene company SCA, maker of TENA incontinence products, that has the goal of granting the lifelong wishes of older adults.
"At Brookdale, our goal is to identify enriching opportunities for our residents that support their passions and enhance their quality of life," said Sara Terry, the company's vice president of resident and family engagement.
Bond's dream stemmed from a 1960 trip to a zoo in Germany, where she had seen an elephant playing the harmonica. Ten years later, she returned to the zoo and saw the same elephant playing the same song.
"Our wish recipients show us that growing older doesn't mean we have to stop dreaming and living a life of purpose," said Wish of a Lifetime Executive Director Tom Wagenlander. The organization aims to shift the way society views and values aging by fulfilling seniors' dreams and sharing their stories to inspire those of all ages.
The recent wish fulfillment activities began in November and will continue through early 2017. So far, three of four wishes have been granted. In addition to Bond, beneficiaries have included:
Roger Baker, 86, of Brookdale Ellington Field in Houston, who visited a nearby auto shop for a personal tour from the owner and a behind-the-scenes look of the rebuilding of a classic car. At the end of his tour, Baker got the chance to take a spin in a 1969 Chevrolet Chevelle convertible.
James Salvatore, 88, a resident at Brookdale Williamsburg in Virginia, who traveled to Norfolk, VA, and toured an active military submarine. The Navy veteran had wanted to board a submarine since he was eight years old.
Brookdale and Wish of a Lifetime have been partners since 2010. In 2015, Brookdale, Wish of a Lifetime and SCA granted the wishes of three women.
Click here to see the In Focus archive and read how to submit your photos for consideration.