April 04, 2018
More than music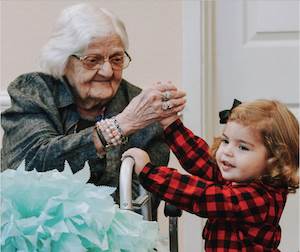 More than music
Capital Senior Living residents and children, from infants to those who are 5 years old, plus their caregivers, are taking part in music-making experiences designed to build relationships across generations and enhance quality of life for all ages as the senior living operator collaborates with Music Together.
Throughout the year, Music Together will bring Generations, one of its music classes for young children, to Capital Senior Living communities around the country.
"I saw parents today dancing with their babies like I did mine," said a resident who participated in the class this past fall at The Wellington at North Richland Hills, a Capital Senior Living community near Fort Worth, TX. "I wish that more people would be introduced to the class. I think we need it for our soul to interact more because it just lifts us up and brightens our day."
The weekly Generations class experience also helps children develop lasting positive attitudes toward aging, according to the collaborators.
"It has been wonderful to see my son's growth as well as getting to know the 'grandfriends' and seeing them remember the songs we are singing and participate more," said a parent who attends Generations classes with her toddler. "As we've gone through, my son has gotten much more comfortable with the grandfriends and wanting to interact with them more."
Click here to see the In Focus archive and read how to submit your photos for consideration.