March 09, 2016
More than words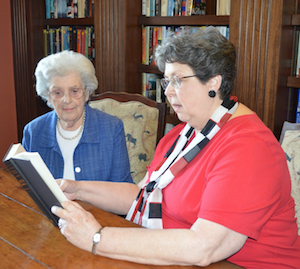 Parkway Place resident Barbara McNeir, right, reads aloud to fellow resident Betty Bryant.
When Parkway Place resident Barbara McNeir retired last September, she looked forward to enjoying one of her favorite pastimes: reading. But her love of books quickly grew to mean much more.
McNeir became involved in the Houston continuing care retirement community's book club, and one month when the book was chosen, the group ran into an issue — no audio book was available, and the sight-impaired residents could not participate.
McNeir began reading to sight-impaired members three times each week so that they could engage in the book discussion. Word quickly spread about her willingness to read aloud to others, and demand for her commentary increased. Soon, she will begin reading news articles and short stories to other at the community, at their request.
"This is something I love doing, and what I was looking forward to the most in my retirement was doing things for others," she said. "I love getting to know the residents here and listening to their stories. I know that there are many other residents here who could benefit from being read to, and I'm excited to explore that option in the coming months."
Sunny Chatagnier, executive director of Parkway Place, said: "Barbara's creativity in helping her fellow residents is truly extraordinary. We cannot thank her enough for the time and effort she puts into making sure that the residents who want to enjoy written stories and articles are able to."
Parkway Place is a Buckner Retirement Services community.
Click here to see the In Focus archive and read how to submit your photos for consideration.