November 18, 2015
New shoes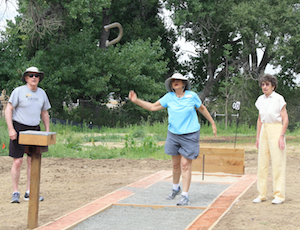 Wind Crest residents Frank Greenwood, left, Gloria Webb and Dicki Nuss take to the horseshoe court.
Residents of Wind Crest retirement community, Highlands Ranch, CO, have been enjoying pitching horseshoes on their campus' new horseshoe court, built by the son of an employee to earn an Eagle Scout badge.
Tim Bond and his fellow Scouts from Troop 457 in Greenwood Village, CO, constructed the court. Bond coordinated with Wind Crest's General Services Department as well as its resident woodshop. He also collaborated with resident and former semi-professional horseshoe pitcher Bob Carlson, who has been playing the sport ever since he was 12 years old, to design the court.
Carlson donated his horseshoe hardware to the effort. "I bought the set of four horseshoes maybe about 30 years ago for $6. Today, the same set costs about $180," he said. He also donated a set of custom-made cold-rolled steel stakes.
Residents had been requesting the construction of a horseshoe court through the community's Resident Advisory Council.
Click here to see the In Focus archive and read how to submit your photos for consideration.