October 26, 2016
No ordinary jewelry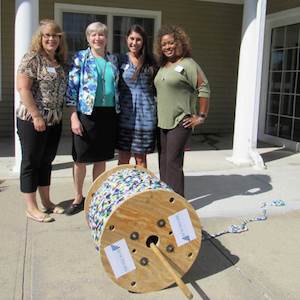 Melaine Barbieri, regional director of programming and engagement; Terri Ramsey, Harbor Care director; Krystee Knapic, corporate director of customer engagement; Kisha Snell, program specialist.
More than 5,000 residents and staff members of Waltham, MA-based Benchmark Senior Living recently worked together to set a Guinness World Record for the longest friendship bracelet.
The company's effort measured 2,166.9 feet, besting the previous record by 157 feet.
"One of the fads of the 1930s was to set a world's record. People were doing pole-sitting competitions and crazy ideas," said Terri Ramsey, Harbor Care (memory care) director at the company's Ridgefield Crossings community in Ridgefield, CT. "So when we were talking about that, one of our residents piped up and said, 'Wouldn't that be fun?' So we thought, 'You know what? It would be fun. Why don't we see if we could break a world's record ourselves?' "
Initially, Ramsey said, the plan was to concentrate the effort at Ridgefield Crossings. "Then we shared the idea with a couple of other people who shared it with a couple of other people," she said.
Guinness sent the company a proclamation saying, in part: "Congratulations, you are officially amazing!"
Watch a Benchmark video celebrating the accomplishment:
Click here to see the In Focus archive and read how to submit your photos for consideration.