May 30, 2018
Not just horsing around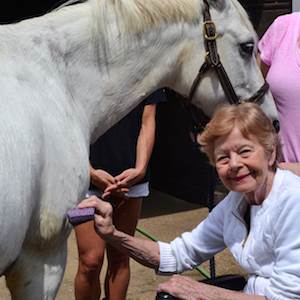 Trezevant Terrace residents enjoyed equine therapy and therapeutic horseback riding lessons.
Residents of the memory support unit at Trezevant Terrace assisted living, Memphis, TN, completed 10 weeks of equine therapy and therapeutic horseback riding lessons at the local Southern Reins Center for Equine Therapy.
Three of the five residents participated in riding lessons, where they completed tasks such as following complex, multistep directions and commanding the horses to "walk on." The women either had owned horses or had ridden for much of their lives, and each week, they were taught new skills while reconnecting with a life-long passion.
Noticeable improvements occurred in the residents' strength and gait, according to Trezevant Terrace, and they reportedly saw cognitive benefits, such as clarity of speech and conversation, as well.
"We believe that the best forms of therapy make achieving goals fun and when you're doing something you love, it never feels like work," said Margaret Morton, the recreational therapist.
Click here to see the In Focus archive and read how to submit your photos for consideration.