January 06, 2016
On a mission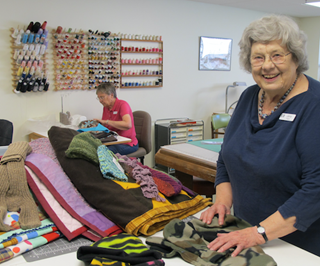 On a mission
The mission of Seattle retirement community Horizon House, which includes "service to the broader community," was evident during the recent holidays.
Resident seamstresses and knitters spent several months creating quilts, pajamas, hats, mufflers and mittens, which they donated to a variety of local charities. Resident woodworkers designed and built wooden toys from leftover wood donated by the renovations department. And yet another group of residents, in supported living and memory support, sanded and finished the toys.
In addition to the donations on the part of individuals and small groups, the Horizon House Residents' Council organized a year-long fund drive among all residents to recognize the service and support provided to them throughout the year by Horizon House employees. The Residents' Council raised more than $268,000 in support of the 2015 Employee Recognition Fund.
At the Horizon House annual holiday party, 304 regular full- and part-time employees, from the concierge to the construction managers to the certified nursing assistants and many more, received checks based on their hours of employment. Horizon House employees hail from 27 different countries; these "bonus" checks enable them to share the holiday spirit worldwide, according to the community.
Click here to see the In Focus archive and read how to submit your photos for consideration.