August 30, 2017
Paper and scissors? They rock!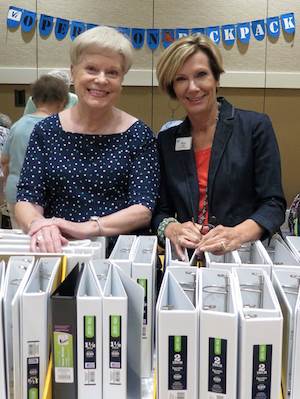 Vi at Bentley Village resident Louise Owens, left, and Executive Director Penny Smith were among those helping fill backpacks with school supplies for area kids at a recent Operation Backpack event.
For the ninth consecutive year, residents of Vi at Bentley Village, a continuing care retirement community in Naples, FL, volunteered their time and contributed their funds to support local students who were about to begin the new school year.
Through an annual fundraising project called Operation Backpack, the senior living community raised more than $4,000 to purchase 140 backpacks and school supplies for local children. The effort set a record for the community, Vi at Bentley Village said.
Aug. 4, residents and some staff members gathered in a community clubhouse to stuff the backpacks with provisions such as notebooks, rulers, pencils, crayons, markers, scissors and glue sticks necessary for the students to complete their school assignments.
Click here to see the In Focus archive and read how to submit your photos for consideration.