January 17, 2018
Party in the sky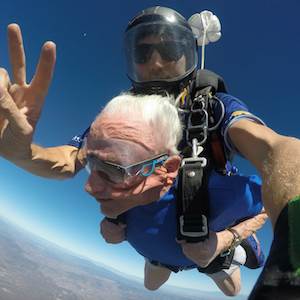 Remington Club resident Joel Halpern celebrates his 95th birthday by skydiving.
Joel Halpern, a resident of The Remington Club, a Five Star Senior Living community in Rancho Bernardo, CA, said skydiving was always something he had wanted to try. So that's how he recently celebrated his 95th birthday.
"Joel told me he wanted to skydive for his 95th birthday, and I told him that if he did, I would do it with him," said Kristen Kearnaghan, executive director at The Remington Club. He was tickled pink that I wanted to join him."
A busload of residents traveled to watch and cheer on the World War II veteran.
Click here to see the In Focus archive and read how to submit your photos for consideration.