July 12, 2017
Patriotism on parade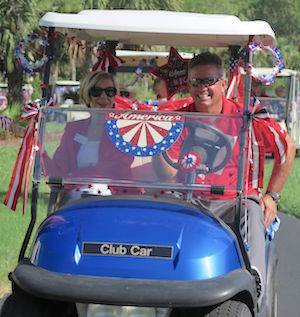 Vi at Bentley Village Executive Director Penny Smith and Head Golf Pro Stan Geer lead a procession of golf carts and bicycles in a July 4 parade.
Vi at Bentley Village in Naples celebrated July 4 with a Southwest Florida-style show of patriotism.
Dozens of residents and employees of the senior living community participated in a golf cart and bicycle parade to commemorate the holiday. Executive Director Penny Smith and Golf Pro Stan Geer led the procession of red, white and blue as it traversed the 156-acre campus, passing viewing stations set up along the route.
Independent living, assisted living and skilled nursing residents gathered to watch.
Click here to see the In Focus archive and read how to submit your photos for consideration.