June 01, 2017
Pitch, putt, pickleball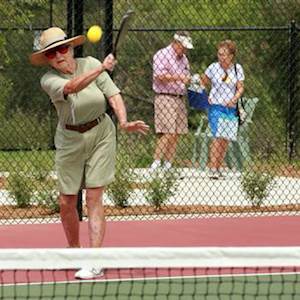 Dee Grace demonstrates her paddle technique on Morningside's new pickleball court.
Nine months after the first dirt was turned and 9,600 plants and trees later, Morningside retirement community in Fullerton, CA, recently gave birth to its new pitch-and-putt golf course, pickleball court and nature walk.
The grand opening for the Links at Morningside was celebrated with a traditional ribbon-cutting with more than 400 residents, guests, government officials and staff in attendance. Afterward, residents played pickleball with professional pickleball players and practiced their putting and short game on the new golf course.
Built for $1.6 million on nearly four acres of vacant land on the Morningside campus, the golf course has six holes and a practice hitting cage. The links were installed with artificial turf to make the course environmentally friendly and easy to maintain.
Morningside also added a pickleball court for residents who prefer pickleball, a sport growing in popularity, especially among older adults. A designated nature walk also was constructed along the golf course pathway.
Click here to see the In Focus archive and read how to submit your photos for consideration.