April 11, 2018
Play ball!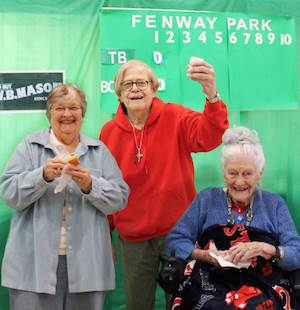 Play ball!
Schooner Estates residents enjoyed the Boston Red Sox opening day April 5 from their very own "Fenway Park" in the Auburn, ME, senior living community.
The event featured peanuts, popcorn and beer and a big screen TV, as well as a Green Monster and a small replica of the Citgo sign familiar to anyone who has visited the ballpark.
The surroundings reminded Gail Roberts, left, of traveling with her husband, Ken (not pictured) to see the team play in Toronto, Baltimore and Boston.
Art Turner, middle, remembered taking a long 180-mile bus trip with his brother and father from Mexico, ME, for his first game, when he was approximately 12 years old. Turner later moved to Newton, MA, and for 40 years was able to see many games at the real Fenway.
Hope Weston, seated, said she went to her first Red Sox game with her father in 1936. He bought the "expensive" seats, which were in folding chairs on the field behind home base. Weston's most recent trip to the park came 10 years ago, when she marked her 92nd birthday with her family.
Click here to see the In Focus archive and read how to submit your photos for consideration.