December 14, 2016
Scarves and sangria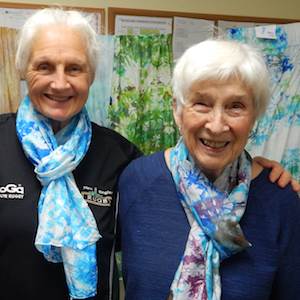 Residence at Otter Creek residents model the silk scarves they made.
Residents of The Residence at Otter Creek, a LCB Senior Living community in Middlebury, VT, recently made ice-dyed silk scarves at one of several December art workshops.
"The technique is quick and easy," Courtney Allenson, CDP, resident engagement director, told McKnight's Senior Living. "Take a silk scarf and crumple it into a ball. Place it on a wire cookie rack and top it with ice cubes. Drop liquid dye over the ice cubes. Sit back and let the ice melt. Then hang the scarf to dry. Voila! Beautiful, organic patterns of color made by water swirls from melting ice."
Residents made the scarves for themselves and to give as gifts. "The project was so user-friendly that we repeated it in our Reflections neighborhood with residents who have dementia," Allenson said.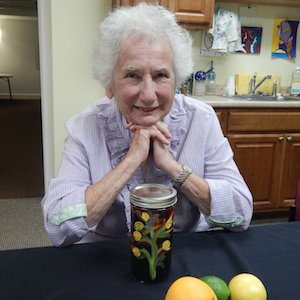 At another recent workshop, residents painted glass jars and, while the enamel paint dried, chopped fresh fruit and mixed up some homemade sangria.
"When the paint was dry, residents filled their jars with the sangria they had made and took them home to share with family and friends," Allenson said. "We chilled the remainder of the sangria and served it to the rest of our residents during happy hour that evening. It was a huge success!"
Click here to see the In Focus archive and read how to submit your photos for consideration.