June 08, 2016
School's out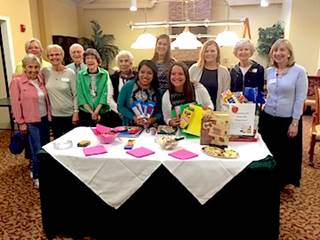 Residents of Presbyterian Village North in Dallas mix it up with teachers from a nearby school.
Retired teachers living at Presbyterian Village North in Dallas reminisced and shared stories with current teachers from nearby Stults Road Elementary School at a recent end-of-school-year event at the community.
The senior living community presented the teachers with school supplies they collected all month.
"We had some interesting stories to discuss," said resident Ester Moffitt, a retired teacher with more than 30 years of experience.
"I loved getting to chat with them, and I felt very encouraged by all of their positive comments," said Linda Flores, a fourth-grade teacher with eight years of experience. "It was interesting to hear how things have changed over time, and how some of their stories were very similar to what we as teachers see today."
Flores said that she is grateful for the volunteers from Presbyterian Village North who come to the school to read to the students, and that the school appreciates that the residents collect books and school supplies for them.
"We value the relationships we have with our neighbors and strive to create opportunities for these relationships to grow," said Ron Kelly, executive director of Presbyterian Village North. "Our residents benefit from it as much as the teachers and students at Stults do."
Click here to see the In Focus archive and read how to submit your photos for consideration.