August 17, 2016
Seniors celebrate athletics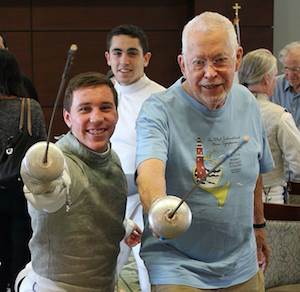 A Naples Fencing Academy student strikes a pose with Arlington of Naples resident Dwight Richardson.
Students from the Naples Fencing Academy in Florida recently brought the spirit of the Olympics to the residents at The Arlington of Naples, a new continuing care retirement / life plan community that is part of Lutheran Life Communities. The students demonstrated fencing as part of the community's weeklong Olympics celebration.
"Since fencing is not as widely followed as other Olympic sports, we wanted to help residents understand the sport, especially since we have a fencing school right here in our own back yard," said Siobhan Mangan, lifestyle director at Arlington of Naples.
Meanwhile, in Catonsville, MD, Charlestown retirement community residents and staff participated in the memory support team's first Memory Support Olympic Triathlon Aug. 5. The event, timed to coincide with the international games in Rio, was designed to improve individual strength, cardiovascular capacity, cognitive functioning and flexibility.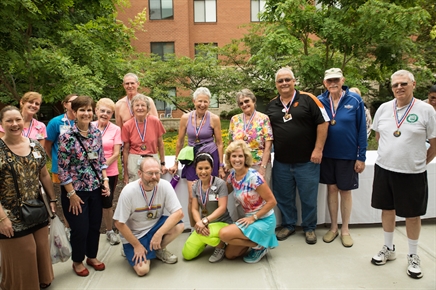 A total of 24 teams (each with two residents and one staff member) completed two laps in the pool, a half mile on a seated-step machine and a half mile on a stationary bicycle. Each person on each team also performed a cognitive task at the same time they were exercising.
The carrying of a torch kicked off the games at the Erickson Living community. Gold, silver and bronze medals were awarded.
In the accompanying photo by Konstantinos Viennas, Charlestown triathlon medalists get ready for their close-up.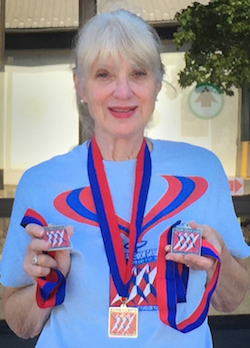 And in Butler, NJ, Claire Gorrian (pictured), a resident at Butler Senior Community, a Springpoint Senior Living community, recently returned home with three gold medals after participating in the Virginia Senior Games in May. She won the gold in three swimming events: 50 freestyle, 50 backstroke and 100 backstroke.
Her performance in Virginia qualifies her to participate in the National Senior Games in Birmingham, AL, in 2017.
Gorrian previously competed in the Indiana Senior Games as well as the National Senior Games.
Click here to see the In Focus archive and read how to submit your photos for consideration.