April 20, 2016
Serving up safety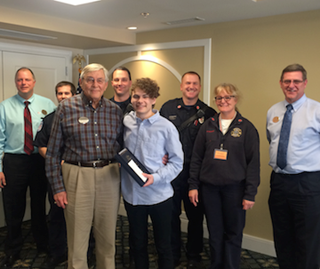 Lucas Bennett is surrounded employees of GreenFields of Geneva and the Elburn Fire Department.
GreenFields of Geneva recently honored an 18-year-old employee for saving the life of a resident.
Lucas Bennett, 18, attends Waubonsie Community College and also works as a dining room server at the continuing care retirement community in Geneva, IL. It was there one night that a resident started choking on her food and the nursing assistant wasn't able to dislodge it.
"She started doing the Heimlich maneuver, but her arms were too short to get a firm grip," Bennett said. "She asked me to step in, and I did. I was shocked and scared. It was surreal. Afterwards, I went back into the kitchen and carried on with what I'd been doing."
Bennett said he had learned the Heimlich maneuver in high school health class, and the steps came back to him.
911 had been called, and when the Elburn Fire Department arrived on site after Bennett already had helped the resident, one of the firefighters came in and asked for his name. "He told me I'd saved the resident's life, and I was in disbelief," Bennett said. Representatives of the fire department were present when GreenFields honored him, and the fire department recognized him at its banquet as well.
"We are so proud of Lucas," said Jim Holbrook, executive director of GreenFields. "The safety and well-being of all of our residents is of the utmost importance, and we're thankful that one of our associates was able to help a resident in such a significant way."
In the photo above, Lucas Bennett, front row, right, stands with his grandfather, Bill Peterson, after being honored by GreenFields of Geneva. Next to Bennett is Elburn Fire Marshal Lisa Schoop. In the back row, GreenFields Director of Dining Kevin Rabler, left, and Executive Director Jim Holbrook, right, flank Elburn firefighters.
Click here to see the In Focus archive and read how to submit your photos for consideration.