September 30, 2015
'Soft as can be'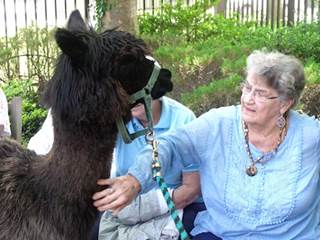 Shirley Neighoff pets Sammy the llama.
Shirley Neighoff found a buddy in Sammy the llama when 50 residents of the continuing care neighborhood of the Charlestown retirement community, Catonsville, MD, participated in a petting zoo. "He's as soft as can be," she said.
In addition to the llama, Party Animalz Petting Farm of Brogue, PA, brought a pony, baby goats, bunnies, baby guinea pigs, chicks, ducklings and micro piglets.
"Bringing together the elderly and farm animals unites two of the most forgotten groups in society," said Denise Puckett, assistant program manager for the Erickson Living community. "Seeing both interact is clear that the benefits are mutual. We see how our residents respond so positively to the animals. The smiles and laughter from our residents are very rewarding."
Click here to see the In Focus archive and read how to submit your photos for consideration.