August 02, 2017
Special delivery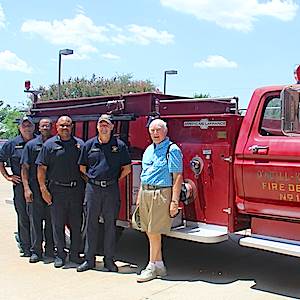 Jim O'Neill, a resident of Highland Springs retirement community, stands in front of his antique fire engine with firefighters from Dallas Station #13.
Residents and employees of Highland Springs in Dallas recently delivered a 50-inch television to firefighters at Dallas Fire Department Station #13 via an antique fire truck.
"In addition to the trained professionals of Highland Springs, Station #13 serves as our first responder," said LeRoy Duran, security and emergency services manager at Highland Springs. "These men and women put their lives on the line each and every day for our protection. A small thank you celebration, cookies baked by residents and something as simple as donating a TV to a local firehouse, goes a long way in showing our heartfelt appreciation."
The community discovered that the fire station needed a TV when viewing the station's website, which listed an Adopt A Station program that provides individuals, businesses and organizations the opportunity to support the city in its efforts to maintain, refurbish and renovate fire stations.
"Matt Neville, our executive director, Barbara Blachly, our community resources coordinator, and I looked at the options to contribute," Duran said. "We learned what they could really use was a new television, and we were able to make it happen."
Residents and employees delivered the TV July 21 on 1974 Ford fire truck owned by Jim O'Neill, a resident of the Erickson Living retirement community. O'Neill, a retired financial executive who moved to Highland Springs from nearby Plano, TX, with his wife, Mimi, in 2014, drives the truck in parades with his children and grandchildren.
Several full-time Highland Springs employees volunteer as firefighters throughout the surrounding community, Duran said, and a part-time employee also works for the Dallas Fire Department. "So our connection is strong," he said.
Click here to see the In Focus archive and read how to submit your photos for consideration.