January 27, 2016
Super seniors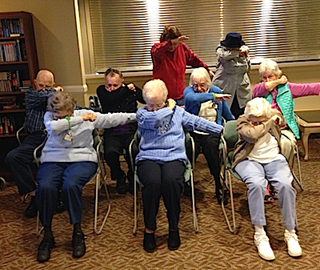 Residents of Piedmont Crossing do the "Panther Dab."
"Carolina Panthers fans come in all ages," Piedmont Crossing continuing care retirement / life plan community in Thomasville, NC, recently posted on its Facebook page. The post featured a photo showing residents "dabbing" in support of the team. Sports Illustrated noticed and shared the post!
The Carolina Panthers will play the Denver Broncos in the Super Bowl on Feb. 7. During the season, Panthers quarterback Cam Newton popularized dabbing, a dance move, on the football field. Supporters are dubbed members of the Dab Squad.
Click here to see the In Focus archive and read how to submit your photos for consideration.