March 02, 2017
The good times rolled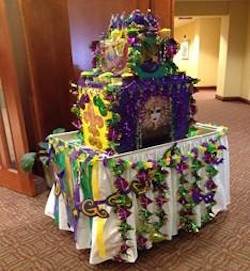 Floats like this one were part of the Mardi Gras parade at Spring Hills Middletown.
A parade kicked off the Mardi Gras celebration Tuesday afternoon at Spring Hills Middletown Assisted Living in Franklin, OH.
The celebration included a one-man band and floats designed by each department of the community. Residents, wearing beads and masks, voted, with the winning department (recreation services) being awarded a pizza party and bragging rights. A saxophonist also performed at the party, which included traditional King Cakes and punch in a Fat Tuesday-themed decorated room.
Click here to see the In Focus archive and read how to submit your photos for consideration.