December 07, 2016
The holiday spirit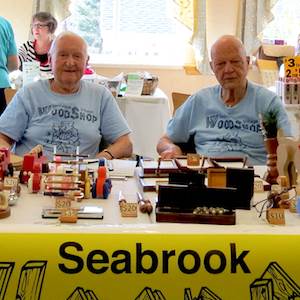 In Tinton Falls, NJ, a holiday bazaar showcased the talents of residents of Seabrook.
Senior living communities are getting into the holiday spirit and helping others do so, too.
In Tinton Falls, NJ, a holiday bazaar showcased the talents of residents of Seabrook retirement community.
The Dec. 2 event featured jewelry, watercolor paintings, handmade cards, children's books, hand-knit items, home furnishings, woodcrafts and more made by more than 15 crafters and artists from Seabrook and the local community. Held at the Fireside Restaurant on campus, it attracted more than 300 residents and staff looking for holiday gifts.
The bazaar also offered an opportunity for residents to raise awareness and funds for the Seabrook Resident Care Fund, which supports Seabrook residents who, despite careful planning, have outlived their financial resources.
Seabrook's Woodworkers as well as its Watercolor Group, which sold a 2017 calendar featuring paintings of winter scenes, still lifes and landscapes, donated proceeds from their sales to the fund. Also, resident Lillian Taylor gave profits from the sales of "Nonna's Knapsacks," walker bags made by her daughter's knitting group, to the fund.
This year, the Holiday Bazaar raised more than $400 for the Seabrook Resident Care Fund. Seabrook is an Erickson Living community.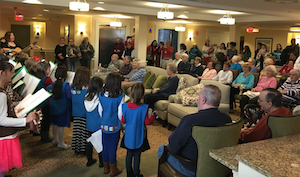 At The Residence at South Windsor Farms in South Windsor, CT, local Girl Scouts visited to sing carols for residents.
And residents and staff at continuing care retirement / life plan community Friendship Village of Schaumburg in Illinois wrote out and signed 400 greeting cards to be sent to U.S. troops in time for the holidays. The cards, along with candy canes, will be distributed through the nonprofit organization Packages for Patriots.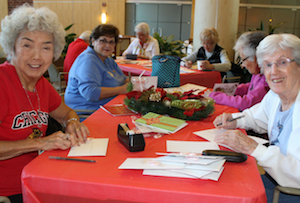 In addition to greeting cards, 500 rosaries were handmade at Friendship Village and sent to troops. The rosaries were specially created in black and brown so as not to be picked up by enemy radar.
"Volunteer work is an integral part of the lives of our residents, as they're always so eager to give back," said Jeannette Magdaleno, manager of lifelong learning and volunteer services at Friendship Village. Last year, she added, residents volunteered more than 7,400 hours.
Click here to see the In Focus archive and read how to submit your photos for consideration.