July 06, 2016
The picture of fun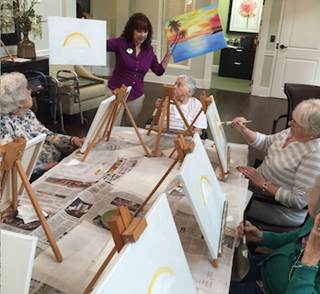 Bonnie Parton leads a painting class for residents at Dominion Senior Living of Johnson City.
Residents of Dominion Senior Living of Johnson City in Tennessee recently began participating in bi-monthly painting classes called "Art from the Heart" as a form of therapy and fun. Many who thought they had no artistic talent discovered that they had artists living inside themselves all along.
"When they finish each session, they are so proud of their work and look forward to the next class," said Michelle Bolling, the community's executive director. "The painting class is one of the most well-attended activities we offer."
Bolling said she especially enjoys seeing the residents who have Alzheimer's disease or another form of dementia participate, because the act of painting seems to bring them inner peace.
Residents recently hosted a free art show with sister community Dominion Senior Living of Sevierville at the Sevierville, TN, location. The Johnson City community plans to hold the show next year.
Click here to see the In Focus archive and read how to submit your photos for consideration.