May 11, 2016
The royal treatment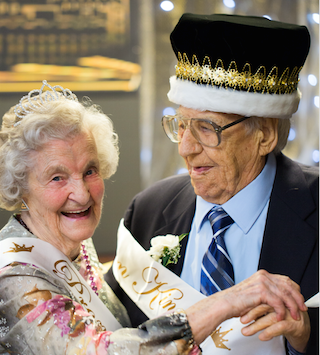 Brandywine prom queen Martha Munster and king Phil Yanich. Both are 103.
Brandywine Senior Living recently hosted a senior prom for all of the centenarians who reside at its communities in New Jersey. Princeton University seniors escorted each resident. Crowned king was Phil Yanich, 103, who lives at the Middlebrook Crossing community in Bridgewater, NJ. Crowned queen was Martha Munster, also 103, who lives at the Princeton community. This was Martha's first prom; she had moved to the United States from Germany when she was 21.
Resident Helen Turner, 109, couldn't make it — she was all partied out from celebrating her recent birthday — but she sent a message via video, which you can view below.
Click here to see the In Focus archive and read how to submit your photos for consideration.