May 09, 2018
This activity is the tops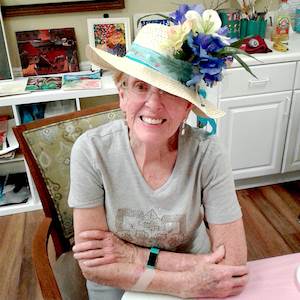 Jeanne Bishop said she wanted her hat to look like a colorful spring meadow.
Residents of Brookdale Sarasota Central in Sarasota, FL, decorated hats in anticipation of a Kentucky Derby party Friday afternoon.
Styles ranged from wide-brimmed to European fascinator, to which residents added flowers, beads and other adornments.
Jeanne Bishop, pictured, chose a hat with a turquoise sash and added some beading to it. She said she was inspired by the color and wanted her topper to look like a colorful spring meadow.
To complete the party theme, Life Planning Law Firm in Sarasota brought two small ponies to meet the residents.
Click here to see the In Focus archive and read how to submit your photos for consideration.