Marketbasket index
An inflationary index reflecting the annual change in prices of goods and services used by providers to deliver healthcare. Similar to the consumer price index. Federal authorities, for example, annually recommend and approve marketbasket updates (increases or decreases) to base Medicare reimbursement rates.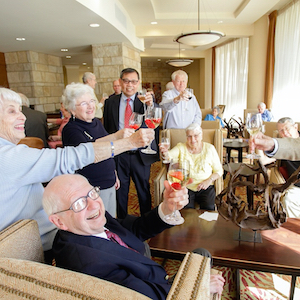 April 18
Spreading thanks
Houston and North Greenbush, NY
Residents of Brazos Towers at Bayou Manor, a senior living community in Houston, recently held a virtual "gratitude party" for residents of Eastwyck Village of North Greenbush, NY, to thank them for their assistance after Hurricane Harvey.