December 03, 2015
New safety devices foster independence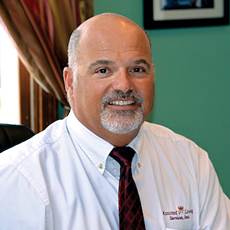 Ron D'Aquila, R.N.
"Hear the Beep Where You Sleep: Every Bedroom Needs a Working Smoke Alarm" was the theme of Fire Prevention Month in October, but what if a person can't hear a traditional alarm? Many new home safety devices tailored for the elderly or disabled allow them to live independently in their own home or an assisted living community.
Products for the hearing impaired usually alert a person to sounds, such as a door bell or telephone ringing, with flashing lights, which is fine while that person is awake. But to alert someone who is sleeping, a wireless smoke detector can send a signal to a wrist-worn receiver and vibrate when activated. Another option is a receiver that actually vibrates the bed to ensure that the person wakes up.
Additional detection is offered by a brand new stove device called Fire Avert. It continually monitors for the sound of a smoke alarm and will disconnect power to the range or stove before a fire occurs. I actually believe Fire Avert is a must for every home because cooking on an electric stove is the top cause of home fires in the United States.
In fact, every 3.5 minutes, a stove fire is reported. Each year, 500 people lose their lives due to these fires, and 5,000 people are severely injured. The average cost of a stove fire for a homeowner is more than $6,000.
A second way to monitor the stove is motion-sensing technology. Timers and internal settings continuously check for movement in the kitchen to ensure that an active stove is not left unattended. CookStop detects when the person has left the kitchen and begins a countdown. If the person comes back within the countdown period, then the device silently resets and cooking continues. If no one returns to the cooking area within the countdown period, however, CookStop automatically will turn off the stove.
Both devices are quick and easy to install. A module is plugged into the back of an electric stove, which connects to the device and then is attached next to the stove. No hardwiring or an electrician is needed.
All of these products can help keep older adults safe and give them and their families peace of mind.
Ron D'Aquila, RN, is president of Assisted Living Services and Assisted Living Technologies. Since 2010, Assisted Living Technologies has offered a variety of advanced in-home devices and services for emergency response, remote monitoring, falls prevention, home safety and medication management. The entire product line is on display and open to the public at the company's showroom at 74 S. Broad St., Meriden, CT. Learn more by visiting www.assistedlivingtechnologies.com or calling 203-235-TECH.