May 17, 2018
Senior living staff, residents vital to technology development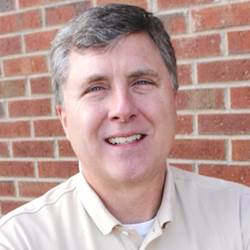 John Moore
Senior living community staff members and residents can be crucial to the development and refinement of technology meant to benefit them. Who better to listen to than those who will use something every day?
Allow me to share my experience.
We all have a need to communicate deeply with aging family members. With families dispersed across the country, however, updating our loved ones on family happenings often can be difficult.
My buddies and I felt this need acutely. We concurred that if our loved ones would just use a computer, or allow the family to buy them a smartphone, then they could send pictures and messages to bridge the mile-long gap of communication. But the one barrier that everyone reading this already knows is that older adults sometimes are challenged by, or stubbornly do not accept, new technology.
Yes, recent studies are showing the increasing use of technology among older adults, but change is difficult. "I'm fine the way I am," our relatives said. Or "I don't want to learn anything new."
As technology entrepreneurs, we thought, "Why don't we just build a device that can connect to the TV, so we can send pictures and messages to our loved ones? They don't have to learn a new form of technology — they will continue to use their TV, which they are already familiar with."
So we did, because we needed a way to communicate with loved ones who were aging in place at home or residing in a senior living community. We had no idea thousands of people all across the country would benefit from the system.
We connected a device to a loved one's TV and started sending pictures and messages of our life events. The communication barrier we and our families had was now solved. Now, we thought, we could get back to brainstorming our next business idea.
But we started getting more feedback than we had anticipated.
Grandma was telling all her friends at her senior community how cool it was that she could receive pictures of grandkids right on her TV, so more people wanted it, and word traveled fast. Really fast.
A company approached us and said it wanted a device installed in every resident's room, throughout 75 buildings, so each resident could communicate with their loved ones.
Then, as we were installing our system for resident use, the staff at the community began requesting a device for the public TVs, digital signage to broadcast community information and eliminate the need for a bulletin board. Our team began tweaking the system so that the same device, programmed on our end, could connect to any existing TV in the lobby, nurse's station, employee break room or activity room. Throughout the process of building a device for digital signage, more and more needs began to arise.
We added activities, a monthly calendar and an option to repeat the activities — daily, weekly, monthly, etc. Then it had to be user-friendly, with a simple interface so content could be added and changed while on the fly. It needed to be web-based to accommodate cell phones and tablets. Then, therapeutic music was the next essential feature, and it kept growing from there. Everything — font, colors, backgrounds, transitions, the whole nine yards — was designed for older adults.
Our technology seemed to take off like wildfire within senior living communities. The feedback we received was that the system was simple to use and could be leveraged on any TV, and that is why it was appealing to the decision-makers within senior communities.
We didn't build a product and throw it at the marketplace, hoping it would stick. Our clients had the ideas, and we just brought them to reality.
Residents and staff members were not the only ones giving us input on the system, however. As family members began to experience the tool or see community information on the public TVs in a community, they wanted to get more involved.
Family members from all over the country began requesting a mobile app for additional family engagement. So we built an app with two versions.
Version one is for those who want to stay up-to-date with community information — see the activity schedule, menu, announcements and pictures of activities and events.
Version two is for those who want to view community information as well as engage with a loved one — send pictures directly from the app to the loved one's TV, write a message, create appointment reminders, add notes such as a medication schedule or grocery list and more.
We continued to expand its features — such as automatic notification reminders sent to the residents, on-demand resources including games, podcasts and faith programs, two-sided monthly calendars, and so on — based on client feedback. What took root from an idea-seed to facilitate personal communication between far-flung generations evolved into a communication system for entire communities. An entire system for resident, family and employee engagement.
Communication is as essential to life as water, food and shelter. Perhaps even more essential, because a person can survive on minimal food, water and shelter, but without connection, she or he withers. Loneliness and disconnectedness are the silent, difficult-to-remedy diseases of our time. If there are magic arrows that can help cure these diseases, we have tried to add another one to the quiver.
John Moore is a co-founder and chief technical officer at LifeShare Technologies.
McKnight's Senior Living welcomes marketplace columns on subjects of value to the industry. Please see our submission guidelines for more information.