Minimum Data Set – see MDS
A core set of screening and assessment elements for all individuals residing in Medicare or Medicaid covered long-term care facilities. The comprehensive form includes common definitions and coding categories, which form the foundation for a resident's overall assessment. Items standardize communication about resident problems and conditions within facilities, between facilities and outside agencies.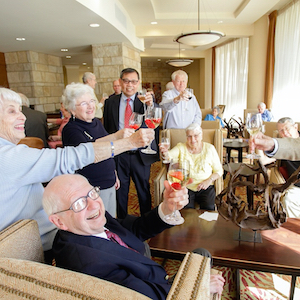 April 18
Spreading thanks
Houston and North Greenbush, NY
Residents of Brazos Towers at Bayou Manor, a senior living community in Houston, recently held a virtual "gratitude party" for residents of Eastwyck Village of North Greenbush, NY, to thank them for their assistance after Hurricane Harvey.