June 25, 2018
1 death, 2 injuries, 1 resident suspect in senior housing fire and shooting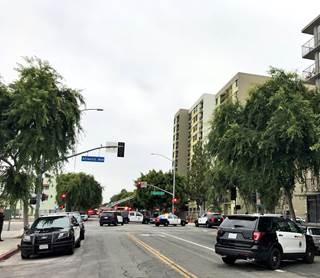 Police officers, a SWAT team, firefighters, a bomb squad and members of the DA's office responded Monday to the explosion, fire and shooting at Covenant Manor. (Photo: Long Beach Fire Department)
One resident has been arrested and another has been hospitalized, and one firefighter has died and another has been released from the hospital, after an explosion, fire and shooting Monday at a California affordable senior housing community.
The incident at HumanGood's Covenant Manor in Long Beach, CA, began at approximately 4 a.m. PDT when firefighters responded to an alarm and reports of a fire and explosion, Long Beach Fire Chief Mike DuRee said at a 4 p.m. PDT press conference.
Soon afterward, he said, two firefighters were shot. Capt. David Rosa subsequently died at a local hospital, and Ernesto Torres was treated and released and is expected to make a full recovery, DuRee said.
A third victim, a male resident of Covenant Manor, is hospitalized in critical but stable condition, Long Beach Police Chief Robert Luna said. The resident's name has not been released.
Emergency preparedness best practices
Although he didn't comment on this specific incident, Stan Szpytek, president of Fire and Life Safety and a retired deputy fire chief / fire marshal, encouraged senior living communities to adopt an "all-hazards" approach to emergency preparedness if they haven't already done so.
Such plans cover fires, active shooter incidents, floods, storms, earthquakes, tornadoes, hurricanes and other emergencies.
"As a best practice, all senior living communities should know what their threats and perils are," he said. "Any kind of shooting should be identified as a potential threat or peril … and they should have plans, protocols, procedures, training and exercises that address every peril in an all-hazards plan, and that includes an armed intruder or active shooter."
Under an all-hazards plan, a community's approach to emergency preparedness will be the same regardless of the specific emergency, Szpytek said.
"If you have an all-hazards plan, it's really how you manage the emergency or emergent situation. It doesn't matter what the root cause is," he said. "If you've got a plan that allows you to manage the crisis with a uniform or standardized process … you're going to be able to manage the unthinkable scenario, because it's just a matter of leadership and delegation. ...It might seem insurmountable at the time, but if you're using that system of delegation and authority, you can manage anything from a single car accident to a major wildfire."
Szpytek shared more advice during a webinar titled "Disaster Preparedness 101: Is Your Community Ready?" at McKnight's Senior Living's recent 2018 Online Expo. The webinar is still available for viewing at no charge at www.mcknightsseniorliving.com/June13expo. Registration is required to view the presentation. Registration is at the bottom of the web page at the aforementioned link.
Police arrived on the scene to multiple reports of a potential active shooter, Luna said. They subsequently questioned and arrested resident Thomas Kim, 77, and have booked him on charges of murder, two counts of attempted murder, and arson, he said. Kim is being held on $2 million bond.
"I believe he had an arrest for auto theft many, many years ago," Luna said when asked whether Kim had a criminal record.
Many questions remain, the police chief said, but a preliminary investigation and witness statements suggest that Kim may have set the fire to lure first responders to the senior living high-rise. "It's going to be one of our primary tasks, other than to support our brothers and sisters of the Long Beach Fire Department, to prosecute the individual that we've arrested to the full extent of the law," he said.
Also responding to the scene were the Long Beach Police Department SWAT team, the Los Angeles Sheriff's Department bomb squad and a team from the Los Angeles City District Attorney's Office that specializes in murder and violent crimes against first responders, Luna said.
The explosion had occurred in Kim's apartment, he said, and the bomb squad found two "suspicious devices" at the 100-apartment building; they were "rendered safe." A handgun also was recovered at the scene, Luna said.
Long Beach Mayor Robert Garcia said that 80 Covenant Manor residents were evacuated to a local community center, where they remained Monday night. The Red Cross, counselors and the city's Animal Care Services Department were there to help take care of the residents and their pets, he said.
HumanGood, in a statement to McKnight's Senior Living, said, "Our hearts are broken over the shocking and tragic loss of Fire Capt. Dave Rosa of the Long Beach Fire Department. We offer our deepest condolences, prayers and thanks to the heroic first responders who came to the aid of our residents and team members at Covenant Manor. We are focusing on helping those residents who were displaced from their homes and assisting the authorities in their ongoing investigation."
June 27 update: Thomas Kim was charged with one count of murder, one count of attempted murder of a firefighter, two counts of attempted murder and one count each of arson of an inhabited structure and explosion with intent to murder, according to the Los Angeles District Attorney's Office. He also faces a special circumstance allegation that the murder was committed while a firefighter was on duty and the special allegation that he personally and intentionally discharged a handgun that caused great bodily injury and death.
If convicted as charged, Kim faces the death penalty or life in state prison without the possibility of parole. The decision whether to seek capital punishment will be made at a later date.
Prosecutors now say that Kim allegedly had been feuding with a woman who lived above him and set off an explosive device in his apartment with the intent of killing her. The case remains under investigation.