July 22, 2018
10 top cities for registered nurses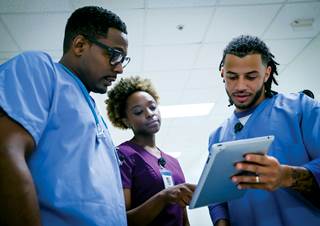 10 top cities for registered nurses
Between new positions and replacements needed, the senior living industry will need to fill 25,600 registered nurse positions by 2025, according to Argentum's "Getting to 2025: A Senior Living Roadmap."
One-third of senior living community jobs are healthcare-related, and within this job category, one-third are RNs or licensed practical nurses, according to an industry profile by Argentum.
A new report may focus the job search for today's RNs seeking work in senior living or another setting. SpareFoot worked with ZipRecruiter data as well as information from other sources and ranked the top cities for RNs based on two factors.
Most important in determining the rankings was how easy it would be for a registered nurse to obtain a job quickly in a city. The second factor in the rankings was real adjusted salary, that is, the ratio of the median base salary for registered nurses to a city's cost of living.
The cities that came out on top:
1. Providence, RI
2. Portland, OR
3. Minneapolis-Saint Paul, MN, and Toledo, OH (tie)
5. Atlantic City, NJ
6. Buffalo, NY
7. Albany, NY
8. Louisville, KY, and San Francisco (tie)
10. Cincinnati
See the whole list at the Sparefoot website.