November 29, 2016
3 assisted living residents die after eating Thanksgiving dinner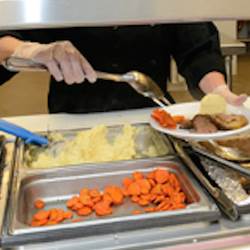 (Photo by John Merkle)
Update, Dec. 20: The Centers for Disease Control and Prevention has determined that the foodborne illness outbreak was caused by the bacteria Clostridium perfringens, according to Contra Costa Health Services. CCHS said that its public health and environmental health divisions investigated 25 related reports of foodborne illness, including the three fatal cases, after the Thanksgiving Day event.
Three California assisted living residents have died after apparently contracting cases of foodborne illness at a Thanksgiving event, according to public health officials.
At least 13 other people, including some additional assisted living residents who were hospitalized, also are sick after eating food at a church dinner held at an American Legion hall in Antioch, CA, northeast of San Francisco, Contra Costa Health Services said on Tuesday.
"Investigators are in the process of collecting biological samples from the reported cases for testing at county and state public health laboratories," the public health department said in a statement.
Those who died were residents at Minerva's Place or Minerva's Place IV in Antioch. Administrator Emerito Gonzalez told the East Bay Times that the communities took more than 20 residents to the dinner, as they have in the past. More than 800 meals reportedly were served this year.
"It's tragic. They were thinking that they would have a good Thanksgiving, and now they have passed away," Gonzalez told the media outlet. "I just want to know what happened. I don't want this to ever happen again."