November 09, 2015
3 ways that exercise benefits residents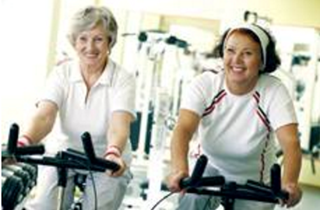 3 ways that exercise benefits residents
Three recent studies demonstrate the positive effects that exercise can have on the health of older adults.
Tai chi and insomnia.
Tai chi can help address insomnia, which in turn helps reduce inflammation in those aged 55 or more years, according to new research published in Biological Psychiatry.
Inflammation may contribute to heart disease, stroke, certain cancers and other significant medical problems, and insomnia is associated with increased risk for illness, including depression, and mortality.
"Behavioral interventions that target sleep reduce inflammation and represent a third pillar, along with diet and physical activity, to promote health and possibly reduce the risk of age-related morbidities, including depression," said Michael Irwin, M.D., who conducted the work with his colleagues at the University of California, Los Angeles.
By studying 123 older adults with insomnia, the researchers found that Tai chi reduced inflammation by reducing the expression of inflammation at the cellular level and by reversing activation of inflammatory signaling pathways. The reduction of cellular inflammation also was maintained during the 16-month follow-up.
The study also found that cognitive behavioral therapy reduces inflammation levels.
Low-impact exercise and arthritis.
A new study finds that a low-impact exercise program is improving quality of life for many older adults with arthritis and other musculoskeletal conditions. Specifically, it helped decrease pain, improve mobility and enhance the overall health of many participants.
The study results were presented at the American College of Rheumatology/Association of Rheumatology Health Professionals annual meeting Nov. 9 in San Francisco.
"Getting seniors to be active in any way will generally improve their quality of life and help them function better in their everyday activities," said Linda Russell, MD, a rheumatologist and chair of the Public and Patient Education Advisory Committee at Hospital for Special Surgery, where the study occurred. "People believe that if you have arthritis you shouldn't exercise, but appropriate exercises actually help decrease pain."
In the survey of the older adults who participated in an eight-week low-impact exercise program, many respondents reported that they experienced less pain and were better able to perform activities of daily living after completing the exercise program. Participants also reported that their muscle and joint pain was significantly reduced. These health improvements translated into better ability to climb several flights of stairs; lift/carry groceries; bend, kneel or stoop; feel less fatigued; have less stiffness; experience improved balance; and be more confident that exercising would not make their symptoms worse.
Aerobic exercise and aging of the brain.
Aerobic exercise may be a disease-modifying treatment for people in the earliest stages of Alzheimer's disease, according to Laura Baker, Ph.D., a cognitive neuroscientist at Wake Forest Baptist Medical Center in North Carolina. It appears to improve brain function and reduce markers of neurodegeneration in older adults at risk of developing the disease, according to research she recently presented at the 8th International Conference on Clinical Trials for Alzheimer's Disease in Barcelona, Spain.
Baker and colleagues randomly assigned adults aged 55 to 89 years who had mild cognitive impairment and pre-diabetes to participate in a structured exercise program involving either moderate to high intensity aerobics or stretching for 45 to 60 minutes, four times per week, for six months, under the supervision of a trainer. Cerebrospinal fluid and blood were collected from participants at the beginning and end of the study, and participants also completed assessments of cognition, how long it took to walk 400 meters, body fat and glucose tolerance. Forty participants also underwent magnetic resonance imaging scans.
Participants in the aerobic exercise group had higher cognitive scores, faster walk times and improved glucose tolerance. Aerobic exercise also had beneficial effects on tau and beta amyloid levels in the cerebrospinal fluid and led to significant increases in blood flow to certain areas of the brain—not when participants were exercising, but when they were at rest.
Baker said she hopes that the results of the study will help motivate people to think about exercise in a different way. "We all know that exercise is good for us, but maybe seeing observable, objective brain changes will provide the impetus to get us out the door to exercise," she added.