June 27, 2017
3 ways to improve employee engagement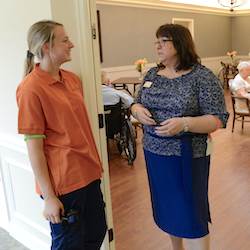 (Photo by John Merkle)
Although it might not seem like good news that only 57% of not-for-profit senior living community supervisors are engaged in their work, the percentage beats that of corporate America, where the engagement rate is at 35%, according to Connie Wolfe, executive vice president of Holleran.
The numbers come from the Wrightsville, PA-based firm's national employee engagement benchmark database of almost 59,000 current cases.
The finding doesn't mean that senior living operators should be content with the status quo, however, Wolfe said in a press release. "We need to do better if we are going to stem the turnover crisis in our field," she said, because supervisors are key to keeping other employees engaged.
"We know that employees usually don't leave their organizations; they leave their bosses," Wolfe said. "If the boss is not engaged, there's only a remote chance that his or her direct reports will be engaged."
Supervisors can become more engaged by improving interactions with their subordinates, Wolfe said.
"We look forward to coming to work when we have positive, nurturing relationships with fellow team members and when we feel like we are having an influence on the passion of others about the mission and purpose of our organizations," she said.
In turn, improved interactions can lead to increased trust of supervisors by the employees who report to them, Wolfe said, an important point considering that Holleran's benchmark reveals that only 62% of employees say they trust leaders in their organizations.
Wolfe shared three ways that supervisors in particular can increase the trust levels with their team members:
Get to know them personally — and allow them to know you.

"When people know your values, what makes you tick, how you see the world, they appreciate you in a whole new way," Wolfe said.

Don't micromanage.

Set goals and expectations, but don't tell people how to do the work, as long as their methods are ethical and legal. Trust that they are competent and will figure it out. "Coach along the way if they need it to complete a task or challenge, but let them put their own stamp on their work," Wolfe said.

Inspire, recognize and thank.

Recognition is one of the most important determinants of engagement, Wolfe said. The good news for senior living, she added, is that more than 70% of the workforce believes that their supervisors recognize their work in a positive manner, according to the Holleran benchmark.