June 21, 2016
3 ways to strengthen the senior living workforce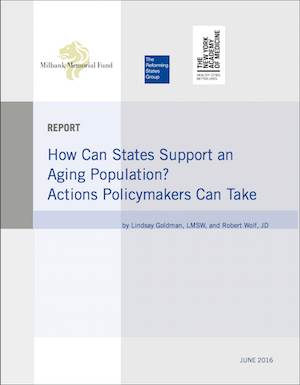 3 ways to strengthen the senior living workforce
Recruiting new workers, retaining current ones and training all of them to meet the changing needs of older adults will be critical as the aging population increases and the number of family caregivers decreases, according to a new report. Three steps can help accomplish these goals, the authors say.
"Training of direct-care workers has been shown to improve quality of care and worker satisfaction and reduce turnover," state the authors of "How Can States Support an Aging Population? Actions Policymakers Can Take."
The report, from the Milbank Memorial Fund's Reforming States Group and the New York Academy of Medicine, stems from a meeting the organizations convened to examine major aging-related challenges and opportunities facing states.
The document cites 2013 data from the Paraprofessional Healthcare Institute indicating that the need for direct-care workers will increase 48% from 2010 to 2020, and the need is projected to be even higher among some specific positions, such as personal care aides. To address workforce challenges, according to the report, the senior living industry can:
Leverage state colleges and universities to educate current and future workers.
Improve the competency level of workers.
Establish state standards and funding streams for training and quality assurance.
The authors also share ways to improve the delivery of dementia care and long-term services and supports, as well as the use of technology, and they share resources that can be used to help implement the recommendations.