September 11, 2015
4 reasons to rethink employee breaks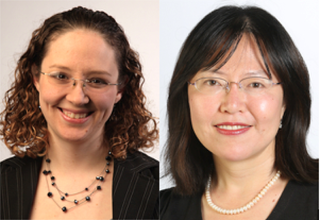 Emily Hunter, PhD, left, and Cindy Wu, PhD
New research from Baylor University provides insights into the best times and activities for employee breaks during their workdays. The study, published in the Journal of Applied Psychology, also debunks some common break-time myths.
Emily Hunter, PhD, and Cindy Wu, PhD, associate professors of management in the university's business school, asked 95 employees, aged 22 to 67 years, to document all of the formal and informal breaks they took over a five-day workweek. What they found:
The most beneficial time to take a workday break is mid-morning. A respite earlier in the workday replenishes more energy, concentration and motivation than breaks later in the day.
"Better breaks" incorporate activities that employees prefer, even if those activities are work-related tasks. "Finding something on your break that you prefer to do—something that's not given to you or assigned to you—are the kinds of activities that are going to make your breaks much more restful, provide better recovery and help you come back to work stronger," Hunter says.
People who take "better breaks" (following the above two points) experience better health and increased job satisfaction. Benefits included less somatic symptoms—including headache, eyestrain and lower back pain after the break' increased organizational citizenship behavior and a decrease in burnout.
Longer breaks are good, but it's beneficial to take frequent short breaks. The study was unable to pinpoint an exact length of time for a better workday break, but the researchers found that more short breaks were associated with more energy, concentration and motivation, suggesting that employers should encourage employees to take more frequent short breaks to facilitate recovery. "Unlike your cellphone, which popular wisdom tells us should be depleted to zero percent before you charge it fully to 100 percent, people instead need to charge more frequently throughout the day," Hunter says.