May 10, 2017
5 ways to keep workers engaged in their jobs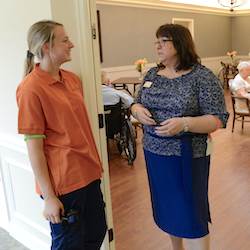 (Photo by John Merkle)
Almost 65% of senior living workers believe they will be working in their current communities three years from now, according to a new analysis from Wrightsville, PA-based employee engagement research and consulting firm Holleran.
Holleran came to the conclusion after looking at its database, which contains information on almost 60,000 employees of not-for-profit senior living communities across the United States.
But although 42% of continuing care retirement / life plan community employees feel engaged in their work, according Holleran's research, 25% do not.
"This is a dangerous and concerning trend, greatly affecting the morale of the rest of the staff and compromising the campus culture," said Holleran CEO Michele Holleran. 'This level of disengagement spills over and creates disharmony on campus and directly affects resident satisfaction and engagement."
Encourage disengaged workers to find other opportunities, Holleran advised, also offering five tips to keep engaged workers engaged so that they are less likely to look for work elsewhere:
Spend time keeping engaged workers motivated to do their best work, leveraging their strengths.
Provide growth opportunities.
Listen and act on their opinions.
Provide lots of coaching.
Recognize and reward their hard work.