April 24, 2017
60% of older owners of cellphones use them while driving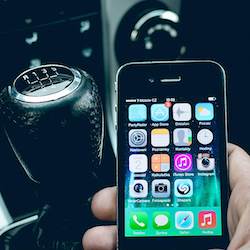 (Photo by Pixabay courtesy of UC San Diego Health)
Sixty percent of drivers aged more than 65 years with cellphones said they talked on them while driving in a recent survey by researchers at the University of California, San Diego, School of Medicine.
The school's Training Research and Education for Driving Safety, or TREDS, program asked 397 older adults about their driving habits. Eighty-two percent of them said they owned a cellphone.
The average age of survey participants was 73, Linda Hill, M.D., MPH, a professor in the Department of Family Medicine and Public Health at the medical school, told McKnight's Senior Living.
"The survey results found older adults are driving distracted less than their younger counterparts but are still engaging in this dangerous behavior," she said. "Of those senior drivers who have a cellphone, 60% of them speak on the phone while behind the wheel, and seniors with a skewed sense of their multitasking abilities are most likely to engage in this behavior."
Vision deterioration, frailty, cognitive impairment, medication side effects, and reduced attention and mental processing speed can affect older adults' ability to drive, the researchers noted. According to experts cited by the researchers, using the phone while driving increases the risk of crashes four-fold, with hands-free and handheld devices being equally dangerous. This rate approximates driving with a 0.08% blood alcohol concentration level, at which people are considered legally intoxicated in all states. Texting increases the risk eight to 16 times, experts said.
"There is concern that adding distraction to the reduced skills of some older adults will increase these crash rates even further," Hill said.
Other survey findings:
75% of seniors believed they are capable of using a hands-free device while driving.
27% drove children younger than age 11 in the past month, and out of those drivers, 42% talked on the phone while on the road.
Men, people who drive more miles per week and those who are self-employed most often drove distracted.
3% of senior drivers had received a ticket for cellphone use and said that the penalty changed their driving behavior.
The TREDS program and the Federal Communications Commission have posted information about distracted driving on their websites.