December 02, 2015
Accountant charged with stealing $116,000 from CCRC resident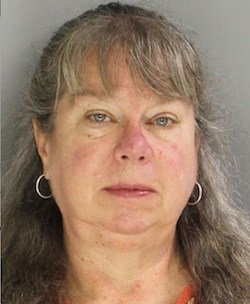 Jeanne Swain (Photo courtesy of the Delaware County Office of the District Attorney)
A Pennsylvania accountant faces four felony counts after allegedly writing more than $116,000 in unauthorized checks from the bank account of a 100-year-old continuing care retirement / life plan community resident.
Jeanne Swain reportedly used Granite Farms Estates resident Elizabeth Webb's money to pay her $1,700-per-month personal rent, her business rent, her state and federal taxes and her ex-husband's rent and medical insurance expenses, according to the Office of the District Attorney of Delaware County. She was arrested and charged with theft by unlawful taking or disposition, receiving stolen property, theft by unlawful taking and theft by deception, all third-degree felonies.
"Our seniors deserve to enjoy their retirement and hard-earned money without the fear of being victimized," District Attorney Jack Whelan said in a statement. Granite Farms is in Media, PA.
Investigators said they were alerted to the possible theft after Webb's son hired an attorney who found that Swain had been preparing Webb's taxes for the past 22 years. They found that Swain had written several checks from Webb's account to herself and others, according to the district attorney's office. Upon examining Swain's accounts and casino card, investigators also learned that she had lost more than $290,000 through gambling over five years.
Swain was arraigned and released on $250,000 unsecured bail on the condition that she will be monitored at home. A preliminary hearing is scheduled for Jan. 19.
A representative of the district attorney's office told McKnight's Senior Living that additional victims are suspected.
Editor's addendum: The alleged victim in this case, Webb, died Dec. 7, according to a death notice published in the Courier Express.